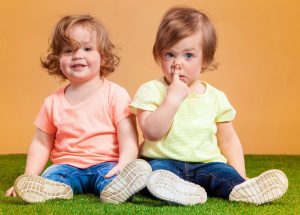 Developmental Anatomy and Physiology of Children, a Practical Approach  by Carol Chamley, Pauline Carson, Duncan Randall and Mary Sandwell is a comprehensive guide for the development of our body systems ranging from embryo to adolescence. It examines pathology as it relates to our developmental stages. It has good comparisons of toddler to infant, and toddler to the older child.
Manual Therapy in Children by Heiner Biedermann is written by a German Orthopedic Physician. It looks at the neuro-musculoskeletal systems during our developmental stages. It examines sensorimotor and neuromotor development in infants and early childhood and the implications in pathology ( ADHD, Sensory Processing Disorder, postural and locomotion concerns, sleep issues birth interventions and more). The manual therapy is from the Orthopedic viewpoint and gives great insight into structure and function.
CranioSacral Therapy for Children Treatments for Expecting Mothers, Babies and Children by Daniel Agustoni encompasses the whole-family dynamics of physical, psychological, emotional, and energetics when treating children. It covers anatomy/physiology and milestone development from birth to age 5 and looks at how Craniosacral Therapy counteracts the effects of trauma in these stages.
Gross Motor Skills in Children with Down Syndrome A Guide for Parents and Professionals by Patricia C. Winter P.T. is a thorough guide to physical developmental stages. With each milestone broken down into sequential components, the book then addresses the motor delays that occur in Down Syndrome and how PT's and manual therapist can guide, support and motivate these children to gain more stability and mobility.
Fine Motor Skills for Children with Down Syndrome A Guide for Parents and Professionals by Maryanne Bruni, BScOT explains the components involved in stability, dexterity and coordination along with a child's ability to understand their sensory input in order to develop and use their fine motor skills. Written by an Occupational Therapist that works extensively with children with Down syndrome, this book is easy to follow.
The Toddler Years The Essential Guide to Your 1 – 3 Year Old by Sandy Jones is an easy to read and understand book with charts and discussions covering milestones, behavior, emotions, playtime, and nutritional guidelines.
Love and Logic Magic for Early Childhood by Jim Fay & Charles Fay, PhD gives techniques and guidelines for building self-esteem, empathy, trust while establishing boundaries and responsibility for children as they grow, learn, make mistakes and thrive.
TouchPoints Birth to Three Your Childs Emotional and Behavioral Development by Berry Brazelton MD maps out behavioral and emotional development in a way that reassures parents and care-givers of children's abilities to navigate these milestones are for the most part driven by predictable early brain-sequential development in the first 3 years of life. He brings in the vital role of a child's extended family and provides guidance to the also predictable regressions that are a part of reaching these milestones.
Baby Development by Dr. Claire Halsey has a good section on toddlers. It has easy to follow pictures and text that shows a child's key developmental milestones. Included are games and activities that stimulate communication and socialization as well as mental growth.
What's Going On In There? How the Brain and Mind Develop in the First Five Years of Life by Lise Eliot PH D. covers human brain development from in-utero to 5 years of age. It has a great section on how the brain is affected by birth and the changes in the days following birth. Eliot covers how hearing evolves, social-emotional growth, plus memory and motor skill development. She also describes nature VS nurture and intellectual growth. This book has scientific studies as well as simple parenting guidance.
Concussions and Our Kids by Robert Cantu, M.D. details different forces of impact and the metabolic changes that can take place with these head injuries. He describes how post-concussive syndrome leads to different types of cognitive impairment. Dr. Cantu describes the dangers of second impact syndrome. I find this book very helpful for myself as a CST practitioner and for parents of toddlers, pre and post-concussion.
Scared Sick: The Role of Childhood Trauma in Adult Disease  by Robin Karr-Morse and Meredith Wiley is a must-read. This very readable and sobering book is a round-up of cutting edge research that explores the relationship between perinatal, infant and childhood stress and disease later in life. Karr-Morse and Wiley investigate how unrecognized and unhealed trauma impact an infant's and young child's developing nervous system. Looking at what kinds of experiences (i.e. cultural, hospitalization, emotional, family separation, abuse) trigger trauma for babies and toddlers and the long lasting implications into adulthood illness. Some guidelines on working with these traumatized children is included.
The Body Keeps the Score Brain, Mind and Body in the Healing of Trauma by Bessel Van Der Kolk M.D. takes an honest and empathetic look at the devastation of abuse and violence in all ages, but especially in children. This book brings a new understanding of the impacts and manifestations of trauma on the mind, brain and body. The author offers new ways to help a person reorganize their system in order to heal.
The Highly Sensitive Child by Elaine N. Aron, PhD is an in depth review of high-sensitivity  traits. The book includes many case studies exploring the different aspects of high-sensitivity. It offers helpful ways of understanding what's happening as well as coping advice. Dr. Aron explains the different ways of processing environmental information and gives guidelines for parents to assist their child in regulating their internal/external reactions.
The Out of Sync Child: Recognizing & Coping with Sensory Processing Disorder by Carol Stock Kranowitz M.A. is a must read. This book is responsible for bringing Sensory Processing Disorder to the forefront in the classroom. She adeptly guides families in getting a correct diagnosis and offers guidelines for appropriate treatment.
Sensational Kids, Hope and Help for Children with Sensory Processing Disorder by Lucy Jane Miller, PHD, OTR is extremely informative as well as full of down to earth practical advice for families, teachers and professionals. Dr. Miller is one of the foremost researchers on Sensory Processing and all of its varied aspects.
Kids Beyond Limits by Anat Baniel is also a must for your library. Through gentle touch, slow engagement and purposeful intention Anat shows how you can build on a child's present abilities to create new neuro-motor pathways that awaken them to their own physical, mental and emotional transformation.
Understanding Your Baby's Sensory Signals by Angie Voss, OTR is a wonderful resource for practitioners and parents. I love the way the information is organized. It lists a problem, the sensory explanation and helpful solutions. I recommend this book and draw heavily from it when helping parents sort out ways to help their little ones. This book is practical and succinct.
Simplicity Parenting  by Kim John Payne is the most wonderful parenting book I have found. This is the book you will read yourself and the book you will recommend to the parents of the children you treat. It is short, practical and essential. I find myself giving advice parroted from this book on an almost daily basis.
Schedule An Appointment        Register For Classes        Get On The Mailing List