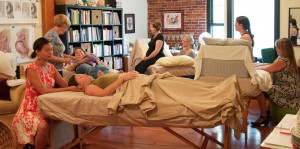 $750 USD
21 hours – three days
9:00-5:00 Monday – Wednesday
All classes are taught in English
All classes are taught in Portland Oregon
September 10-12, 2018 – six openings

CST for Pregnancy Birth & Postpartum – Advanced Clinical Skills Class Description
This class is the required prerequisite for the Pregnancy Birth & Postpartum CST certification program.This class gives students the opportunity to observe more demonstration treatments, continue practice under my supervision and participate in a group case review process. That's all we do in this class. I give four mama demonstration treatments (two pregnancy and two postpartum) and my students each treat four mamas. As a group we review all of the treatments provided during the class (28 treatments in all).

Prerequisite
Students must have completed CST for Pregnancy Birth & Postpartum.
Overview
Over the course of three days we treat mamas and review the treatments. We grow our knowledge about pregnancy, birth, postpartum healing and life in growing families beyond the context of manual therapy. This learning organically evolves during the guided multidisciplinary discussions we share about the mama treatments given in the class. This class is limited to six students.
The Reading List for This Class
Schedule An Appointment        Register For Classes        Get On The Mailing List