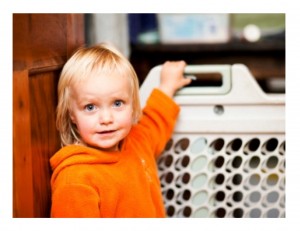 This is part three of the Tribute to Magda Gerber series.
If we are really serious about allowing babies to explore their worlds and develop their skills naturally, we need to provide appropriate places for them to do it – a concept that goes beyond child-proofing. In a way this seems like a no-brainer, but I'm amazed at how many homes I visit that are not set up like this.
Imagine yourself as a baby. You have your eye on the remote control. It's not far away. It's somewhere in the living room most days – though not always in the same place. You have been admiring it for days.  You have been working hard to perfect rolling from back to front so you can get closer to that remote. You are starting to roll. You are almost almost there. Suddenly, without warning, someone pushes you the rest of the way onto your belly. What a surprise! You have temporarily forgotten about the remote.
The next day you are on the floor again. You can almost touch the remote. You spend 20 minutes wiggling, rolling, reaching, squirming until FINALLY you get your hands on the remote control. Then, amazingly, someone takes it away from you.
How would it be if your baby-self enjoyed a safe place filled with interesting, simple objects that were OK to touch?  What if you were free to discover your own ways of playing and interacting with everything in this safe space? This is the essence of one of my gifts from Magda Gerber.
Until I met Magda, it never occurred to me that I could use baby gates or a separate room to define a safe area for my babies and toddlers to play and explore once they were mobile or working on mobility. I honestly thought that I was supposed to teach or direct  my children's play. I thought I was supposed to somehow train (or vigilantly supervise and redirect) them to not touch fascinating, but fragile/dangerous adult objects or put everything away for several years – maybe forever.  "Honey, where's the remote?"