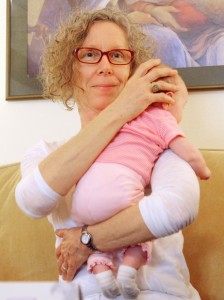 Professional Licenses and Training:
I attended births for more than 35 years. I began my professional bodywork and doula career in 1990. I was a certified Birthing From Within mentor from 2001 to 2008. I was  an unlicensed Oregon homebirth midwife from 2000 to 2012. I have been licensed to practice massage in both Oregon (#3150) and Washington (#MA 00004670) since 1990. I am an experienced certified yoga teacher (ERYT 200) and a certified prenatal yoga teacher (RPYT). I am a former Birthing From Within Mentor Advisor and a former Birthing From Within Doula Trainer. I completed doula training at the Seattle Midwifery School with Penny Simkin.
I have studied bodywork modalities with various people including Meier Schneider, Rich Phaigh, Rosita Arvigo, Lindy Ferrigno, Suzanne Scurlock Durana, Anat Baniel, Fritz Smith, Frank Lowen, Jeffrey Burch, Alain Gehin, DO, Claudia Cohn, DO, Tami Kent, MSPT, Liz Koch, Katy Bowman, Michelle Emanuel, Etienne Peirsman, Gail Tully, Alison Hazelbaker, PhD, Ellen Mossman, Jennifer Merciér, Teresa Robertson, Maxine Haller and many more.
I completed much of her CranioSacral Therapy training, including advanced, obstetric and pediatric specialty work, with the Upledger Institute. I studied directly with Dr. John Upledger, the founder of this work. I was a teaching assistant for the Upledger Institute for all levels of CranioSacral Therapy training including advanced, pediatrics and cadaver dissection.
I frequently attend an annual week-long private invitation-only conference for (mostly biodynamic) CST teachers called Interface. All participants present original work they're developing at this gathering. The purpose of Interface is collaboration and cross-pollination.
I completed Bodywork for the Childbearing Year and Bodywork for the Childbearing Year Postgraduate Training with Kate Jordan and Carole Osborne-Sheets. I  also trained directly with Pam England, author of Birthing From Within. No list of influences would be complete without mentioning Karen Strange and her fabulous neonatal resuscitation classes taught from an infant consciousness point of view.
I completed prenatal yoga teacher training with Marisa Toriggino at Yoga Garden San Francisco. I  have also studied yoga with Doug Keller, Leslie Howard, Leslie Kaminoff, Shiva Rea, Tiffany Cruikshank, Julie Gudmestad and many others. I regularly attend continuing education training for midwives, lactation consultants, childbirth educators, yoga teachers and bodyworkers. I am committed to lifelong learning.

Certifications and Affiliations

I am approved by the National Certification Board for Therapeutic Massage and Bodywork (NCBTMB) as a continuing education Approved Provider. I am a Certified Pregnancy Massage Therapist. I hold E-RYT 200, YACP and RPYT certifications from Yoga Alliance. I am a member of  The American Massage Therapy Association, Oregon Midwifery Council, International Consortium of Ankylofrenula Professionals and Yoga Alliance. I am a current board member and vice-chair of the Oregon Board of Massage Therapists. I am a past examiner and Rules Committee member for the Oregon Board of Massage Therapists and a past American Massage Therapy Association – Oregon board officer.

Carol's Upledger Institute Credentials

The Upledger Institute has revoked the credentials, certifications and practitioner directory listings for people (including Carol) who teach CST independently.
Schedule an Appointment     Get On the Mailing List     Send Carol an Email