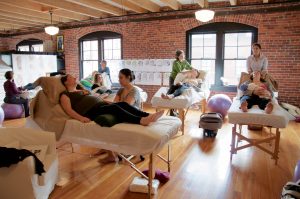 COVID-19 POLICY: Our clinics continue to be canceled until social distancing policies have been lifted and it is safe for us to be in close contact. We make decisions about whether to hold or cancel a clinic about a month in advance of our published dates.

Craniosacral Therapy is helpful for a variety of pregnancy discomforts. It can help improve mobility in a pregnant body so babies can assume ideal positions for an easier birth. Postpartum CST helps restore balance in the body. It is especially helpful for people who are recovering from a cesarean birth.
More About CST for Pregnancy and Postpartum

CLASS CLINIC:
Class clinics are held in conjunction with a Craniosacral Therapy for Pregnancy Birth and Postpartum classes and MamaSpace Yoga® Prescriptions classes. We have openings for supervised student practitioner treatments.
COMMUNITY CLINIC:
Superstar perinatal CST practitioners treat pregnant and postpartum people at community clinics.

WHO WE TREAT:
We treat people who are in any stage of pregnancy up to eight weeks postpartum. You must make an appointment in advance. Email Carol's office for an appointment.
CLINIC LOCATIONS: Clinics are held in NW Portland. You'll get location details when your appointment is confirmed.
CLINIC DATES:
November 17-18, 2022 – Class Clinic
This free clinic is held in conjunction with Carol Gray's Craniosacral Therapy for Pregnancy Birth and Postpartum class. Pregnant and postpartum people will receive free Craniosacral Therapy treatments from student practitioners under Carol's supervision. Email Carol's office for an appointment.

Appointment Times:
Thursday November 17 at 1:00
Thursday November 17 at 2:30
Friday November 18 at 9:30
Friday November 18 at 11:00